EurEau newsletter - edition 39 - September 2019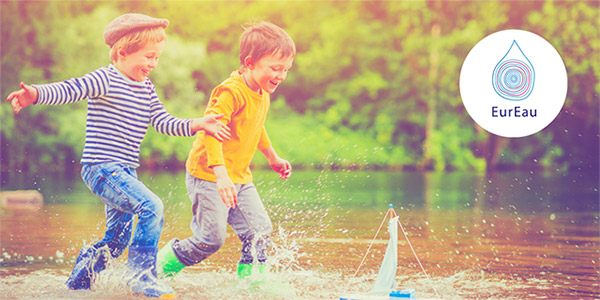 EurEau News
Microplastics: EurEau briefing note assesses impact on water sector
We published a briefing note analysing some of the ways microplastics enter the aquatic environment and the role of the water sector in mitigating this.
While there is no significant presence of microplastics in drinking water as the waste water treatment process removes most of the particles. However, doing so jeopardises the possible circular economy options for sewage sludge.
The briefing note concludes that control at source measures are the only viable option to keeping the circular economy.
EU news
Drinking Water Directive
The ENVI Committee of the European Parliament voted (25 September) in favour of entering negotiations with the Council of the EU on the Drinking Water Directive.
The negotiations will be based on the European Parliament's first reading position adopted in Plenary on 28 March 2019 and the Council's General Approach from 5 March 2019.
The Finnish Presidency has repeatedly stressed its ambition to reach an early second-reading agreement by the end of the year.
Water Reuse
Also on 25 September, the ENVI Committee of the European Parliament voted in favour of entering the negotiations with the Council of the EU on the Water Reuse Regulation.
The negotiations will be based on the European Parliament first reading position adopted in Plenary on 12 February 2019 and on the Council General Approach from 26 June 2019.
The Finnish Presidency has repeatedly stressed its ambition to reach an early second-reading agreement by the end of the year.
Single use plastics: Consultation on the SUP Directive
Consultants appointed by the European Commission launched a comprehensive survey on the Single Use Plastics Directive. The focus is on the definition of plastics, current labelling schemes and related test methods. The deadline is 4 October 2019.
Fertiliser Regulation - STRUBIAS
On Tuesday 24 September the Joint Research Center finally published the long awaited report on characteristics of secondary raw materials extracted from biogenic waste, especially sewage sludge. It covers three categories of products: precipitated phosphate salts & derivates; thermal oxidation materials & derivates and pyrolysis & gasification materials better known as struvite, ash-based products and biochar.
This report presents the potential future requirements to allow these materials to be traded on the internal market as fertilising products. The report can be found here.
Innovation and circular economy
Our Bertrand Vallet was a panellist at the 'H2020 Water Innovations for sustainable impacts in industries and utilities' workshop after the IWA Resource Recovery Conference.
Different H2020 projects – mainly on ways to recover materials from waste water treatment were pitched in front of stakeholder representatives who gave their feedback, in Venice, Italy on 11 September.
Break-out sessions related to different themes (energy, reuse, nutrient recovery, bio-based resource recovery, impact on water tariffs) allowed participants to explore solutions to allow our sector to improve its involvement in the circular economy. A report will be issued soon which we will of course keep you posted on!
EFSA pesticide cocktail effect consultation
The EFSA is carrying out a public consultation on its pilot assessments of the risks posed to humans by residues of multiple pesticides in food.
You can participate in the consultation until 15 November to the two assessments: one considers the chronic effects on the thyroid system and the other looks at acute effects on the nervous system.
Background
Consultation
Hearings of Commissioners-designate
From 30 September onwards, the Commissioners-designate will be grilled by the respective European Parliament Committees that will check their competences and commitments. Mr Virginijus Sinkevičius Commissioner-designate for Environment and Oceans, (from Lithuania) will pass his "exam" in front of the ENVI and PECH Committees on Thursday 3 October). The webstream is available here.
Vice-President Timmermans (from The Netherlands), will be heard by the ENVI Committee on the 8 October on his European Green Deal portfolio (including climate change and sustainability).
Overview of EU environment and health legislation
The European Parliament produced an up-to-date overview of EU environmental and climate change policies. The study reviews the state of play and pinpoints key challenges for the next five years. It is available here.
SDG6 and EU WOPs
On 12 September Carla from the EurEau Secretariat and Emilie Sturm from Unie van Waterschappen attended a workshop organised by DG DEVCO and GWOPA on Water Operators Partnerships with a view to establishing an EU Programme to support mentors-mentee activities to achieve SDG6 not only in Europe but also around the world.
News from members
The UK published its first research on micropollutants (drinking water and waste water both covered).
And here is the press release from Water UK.
Kran Markt goes to the movies
Svenskt Vatten worked with Visit Sweden to produce a (very) short movie promoting Sweden's fabulous tap water. Grab your popcorn and watch!
IWA Call for Papers
IWA Copenhagen 2020 is looking for your contributions to the congress. The call for content is open until 30 October, so get your submissions in!
More details here.
Out and about
Alejandro de la Sota represented EurEau at the Workshop about Contaminants of Emerging Concern in San Sebastián on 17 September. He spoke about the European regulatory framework. Part of his talk focussed on our vision for control solutions at source and incorporating expanded producer responsibility.
Events
3-4 October 2019 – Wroclaw, Poland. Oliver will be at Economy of a Water City.

6-8 October 2019 - ECSM, European Conference on Sludge Management, Liège, Belgium. Jean-Pierre Silan will represent EurEau, talking about 'A holistic approach to face challenges of waste water operators for sewage sludge management in Europe'.
8-9 October 2019 - CEDR Call 2016 Transnational Research Programme – Part Water Quality, Lisbon, Portugal. EurEau will be represented by Maria João Benoliel.
9 October 2019 - Waste water phosphorus removal tomorrow: ambitions and reality, Liège, Belgium. Greet de Gueldre will speak at it, representing EurEau.
15 October 2019 - Assises de l'eau en Wallonie, Meux, Belgium. More… You can register from 9 September here: www.lesassisesdeleau.be, and it's free!
21 October 2019 - Water Reuse Europe will host a one day knowledge exchange event in Lille, France. https://www.water-reuse-europe.org/event/kex2019/
4 November 2019 – Claudia Castel-Exner, EurEau President, will give the keynote speech at the leaders forum of AIWW. https://www.amsterdamiww.com/
7 November 2019 – Journée d'étude for CEBEDEAU. Bertrand will be present.

12-13 November 2019 – DANVA Annual Conference in Aarhus. EurEau President Claudia Castell-Exner will speak at it.
13 November 2019 – Berlin, Germany. Oliver will be at Wasserwirtschaft in Zeiten des Klimawandels – Ein Blick von außen auf die Branche.
28 November 2019 - Second International Conference on Risk Assessment of Pharmaceuticals in the Environment (ICRAPHE); Barcelona, Spain.
3 December 2019 – Rome, Italy. WAREG 1st European Regulators Forum. Several EurEau members will be present, including President Claudia Castel-Exner, Mariano Blanco, Sarah Gillman and Carl-Emil Larsen.
12 December 2019 - EU Water Innovation Conference 2019 in Zaragoza, Spain. Alexander Keucken, chair of the Joint Working Group on Innovation will represent EurEau.
1-3 April 2020 – Lisbon, Portugal. Urban Future Global Conference.
15-16 June 2020 - European Sustainable Phosphorus Conference, Vienna, Austria. The call for abstracts for presentations for the six parallel sessions is open. More…
3 July 2020 – Lisbon, Portugal. OSPAR Ministerial Meeting.
25-28 May 2021 – CEOCOR; hosted by ÖVGW in Vienna, Austria.