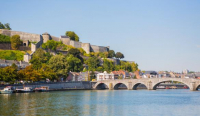 The 'Assises de l'eau en Wallonie' will take place on Tuesday, October 15th in Meux, in the region of Namur, Belgium.

Two themes will be presented: the management of rainwater and the protection of the water resources.

You can register from 9 September, in www.lesassisesdeleau.be, and it's free !
The event will be in French.
This is a follow up of the First ICRAPHE international conference organized in Paris, September 8-9, 2016 by Prof. Yves Levi.