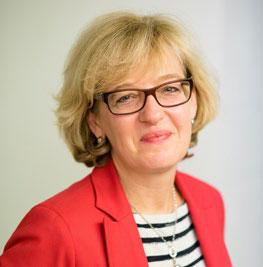 Claudia Castell-Exner
EurEau Vice President and General Assembly (Germany)
DVGW
Position within EurEau: Vice President and general assembly representative (Germany).
Current position: Deputy head of the water department at DVGW
Background (studies): PhD in geography
Previous work experience: started at DVGW in 1991; 1988-1991 Water utility in Bad Kreuznach, Germany. In addition, Claudia was vice president of the hydrogeology section of the German Geological Society between 1996-2002
Lobbying experience: Through work and EurEau; Claudia was a member of the EurEau Commission 3 'Legislation and Economics' between 1991-1998 and joined the EurEau Commission 'Drinking Water' in 1998 and has chaired this commission since 2011. She has represented EurEau on many occasions, including as part of the expert group on the Drinking Water Directive, in EU-funded research projects like PREPARED, SOLUTIONS, TAPES, and TOPPS. Aside from her work in EurEau, Claudia is a member of the Drinking Water Committee at the German Federal Ministry of Health and an expert member of the steering committee of the Federal Ministry of Education and Research for the research program Risk Management of Emerging Compounds and Pathogens in the Water Cycle (RiSKWa).
Why does water matter to you? Water is life and the main pillar for every society
Personal information: Carpe diem