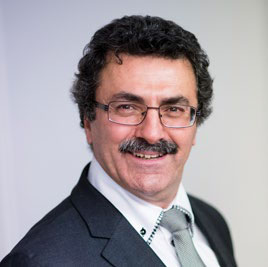 Mircea Macri
EurEau Executive Committee Member
Romanian Water Association
Position within EurEau: member of the Executive Committee and General Assembly representative (Romania).
Current position: Director within S.C. Apa Nova Bucharest S.A. – a Veolia company.
Background (studies): PhD in Hydraulics from the Technical University of Civil Engineering from Bucharest.
Experience: Mircea works with the Hydraulics and Plumbing Department of The Technical University of Civil Engineering Bucharest and has published more than 80 technical and scientifically papers. He has over 35 years of experience within the Bucharest Water Supply and Sewerage company holding both technical positions as the Director of Water Supply System and Water Pumping Division and being in charge with the Strategy and Reform Department, responsible with the preparation of the Concession Contract of Water and Sewerage Services in Bucharest and the organisation of the bidding process, transforming the company in a successful Public-Private Partnership.
His current activities include managing the Department of Concession Contract's Administration (including Dispatcher of 'Water Movement' for Bucharest City, Water Modeling Bureau, Level of Service´ Monitoring Service) within S.C. Apa Nova Bucharest S.A. – a Veolia company, membership in National Leading Committee of the Romanian Water Association. He is vice president of Arges - Vedea Water Basin Committee, a member of the Romanian Water Patronage Executive Committee, and a member of the IAWD Board.