EurEau is recruiting a full time Policy Adviser for a fixed-term contract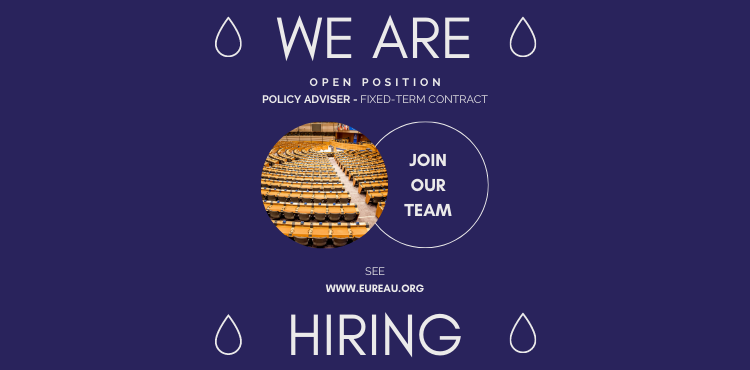 EurEau is the European Federation of national associations of water services representing the water & waste water operators at EU level. Through 70.000 utilities – reflecting the full diversity of the European water and sanitation services and representing public, private and mixed operators – EurEau members collectively provide water services to more than 400 million people in Europe. For more information: www.EurEau.org
Profile
Brussels based;
A university degree or equivalent (EU-affairs, Economics, Law, Environment or another relevant field);
At least 2 years experience in EU advocacy;
Proven knowledge and interest to work for the European water sector, experience in water policy is an asset;
Fluent command of English, additional European languages being an asset;
Outstanding analytical and communication skills, ability to speak and write clearly and concisely;
Ability to establish productive relationships with people at all levels;
Willingness and availability for travelling in Europe.
The work consists of
Working in a small international team, reporting to the Secretary General;
Working in close cooperation with experts from EurEau member organisations;
Monitoring European water legislation and its implementation;
Analysing and advising on decision making processes and legislative proposals, official documents and studies linked to relevant topics;
Creating and executing strategies to advocate EurEau's position towards decision makers, media, stakeholders and within the international network of the organisation;
Contributing to the drafting of EurEau's publications;
EurEau offers
A position working for a sector that serves almost every European citizen and promotes the protection of our water heritage;
A full time, 1 year fixed-term contract under Belgian law, with a possibility of a 1 year extension;
A competitive salary (subject to the level of experience), luncheon vouchers, holiday bonus, pension scheme & 13th month;
A friendly, flexible working environment.
How to apply
If this position interests you, we encourage you to send your application letter and curriculum vitae to This email address is being protected from spambots. You need JavaScript enabled to view it. before 28 February 2021.
Interviews will start: Early March 2021.
Starting date: As soon as possible.
For further information about the position please contact: Louise Hoogenhout, Office Manager.