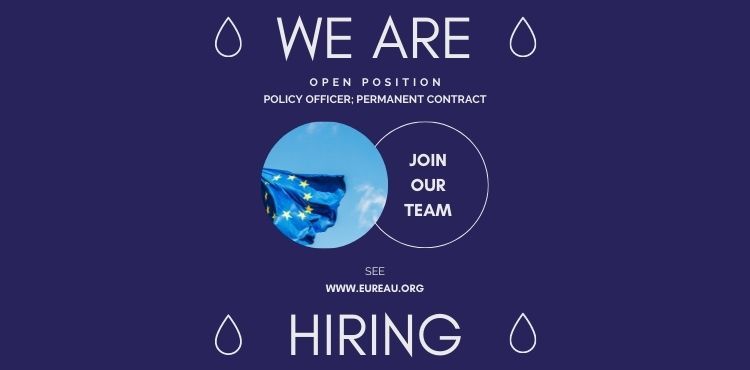 EurEau is hiring: policy advisor
EurEau is the European Federation of National Associations of Water Services representing the water & waste water operators at EU level. Through 70.000 utilities – reflecting the full diversity of the European water and sanitation services and representing public, private and mixed operators – EurEau's members collectively provide water services to more than 500 million people in Europe.
PROFILE
The Brussels-based Policy Advisor should have:
A university degree or equivalent
At least 3 years of relevant experience
Proven interest to work for the European water sector
Knowledge of EU institutions and the EU decision-making process
Fluent command of English, additional European languages being an asset
Outstanding communication skills; ability to speak and to write clearly and concisely
Background in economics, law, environment or another relevant field
Ability to establish productive relationships with people at all levels.
FUNCTION
You will work in a small international team, reporting to the Secretary General
You will work in close cooperation with experts from EurEau member organisations
You will monitor European legislation and its implementation relating to the water sector; you analyse legislative proposals, and other relevant documents and build a EurEau position in close cooperation with members
You will develop and execute strategies on how to advocate EurEau's position to decision makers, media, stakeholders and within the international network of the organisation
You will contribute to the drafting of EurEau's publications
You will support your colleagues in their tasks whenever needed.
PACKAGE
EurEau will issue a full-time contract under Belgian law. Salary and benefits will be commensurate with experience.
APPLICATION
If this position interests you, we encourage you to send your motivated application and curriculum vitae as soon as possible, to: This email address is being protected from spambots. You need JavaScript enabled to view it..
Deadline for applications: 12 June 2022, 23:59 CET