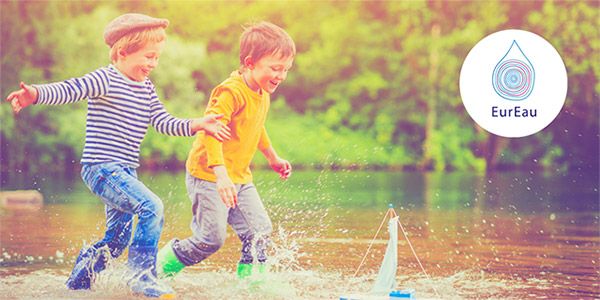 EurEau newsletter - February 2023
Get all the latest European water news here!
EurEau News
EurEau positions published
EurEau welcomes the European Commission's Proposal for a Directive concerning urban wastewater treatment (recast), as its more ambitious objectives will align better with the overarching UN's Sustainable Development Goals and the European Green Deal, while enhancing the governance of the wastewater sector and people's access to sanitation. You can read more here or go directly to the position here.
We also published our position on the enlargement of the Environmental Quality Standards (EQS) lists as a prerequisite to providing safe and affordable drinking water services to consumers and as an effective means of protecting the environment.
Speaking out
On 27 February, Oliver Loebel, EurEau Secretary General, spoke at the high-level hearing on water policies and challenges - Time for a Blue Deal organised by the European Economic and Social Committee in Brussels.
MEP Christophe Hansen will host a hybrid event in the European Parliament on 9 March 2023, entitled: Revision of the Urban Wastewater Treatment Directive: Just wasted water or a sustainable resource? We will be represented by Michael Bentvelsen, co-chairperson of our committee on waste water. To register, see here. You can read our position here.
EU news
Water and agriculture
Sustainable Use of Pesticides Regulation: rapporteur presents report
The European Parliament's Rapporteur (Sarah Wiener (Greens/EFA, Austria) for the Sustainable Use of Pesticides Regulation (SUR) published their report on the proposed legislation in February, highlighting that water resources should be better protected and polluters should be financially responsible for any environmental damage they incur. Read more …
You can read our position here.
Soil Health: final summary
The Soil Health Final Summary report following the consultation period is available. The Commission's proposal for a Soil Health Law is expected in June.
Water and the environment
WFD, EQSD and GWD: EurEau position published
The European Parliament's ENVI Committee Rapporteur (Brglez, S&D, (Slovenia) for the Directive amending the Water Framework Directive (WFD), Environmental Quality Standards Directive (EQSD) and Groundwater Directive (GWD) published their report on the proposed legislation on 20 February, introducing amendments to apply an Extended Producer Responsibility (EPR) scheme to cover the costs of monitoring. You can read it here.
We published our position on the Commission proposal where we support the enlargement of the list of priority substances, as stricter quality standards (EQS) should lead to the better protection of water resources. Our main request is that source-control measures should be clearly prioritised in the three directives if the EQS are exceeded, and we call for enhanced coherence in upstream regulations (REACH, IED, pharma, PPP and alignment with the DWD and UWWTD) to tackle pollution before turning to end-of-pipe measures (that should come with EPR).
Chemicals: PFAS restriction proposals progressing
ECHA pre-published the universal PFAS restriction proposal on 7 February. The restriction proposes a ban with time-limited derogations for some industrial uses.
PFAS, the so-called 'forever chemicals' pose substantial problems to water service providers. Only a full ban will ensure that our scarce water resources are sustainably protected from contamination.
EurEau welcomes the European Chemicals Agency's (ECHA) recent proposal for a group restriction comprising more than 10 000 per- and polyfluoroalkyl substances (PFAS), although we will submit input during the public consultation to support a full ban. Read more…
In parallel, ECHA is putting the final touches on the restriction proposal for PFAS in fire-fighting foams. While this is a step in the right direction, transition periods are too long and the polluter-pays principle is not implemented.
In related news, Le Monde published a report on the proliferation of PFAS in Europe. We were interviewed for it. You can read more here (in French).
IED: Oder disaster report calls for ambition
The European Commission and the European Environmental Agency (EEA) have published a report on last year's ecological disaster in the river Oder, where 360 tonnes of fish were killed by a toxic algal bloom. Its conclusions reaffirm the need for ambition in the ongoing IED revision. Read more …
Innovation Sharing Platform news
There is lots happening on the EurEau Innovation Platform.
Colleagues are looking for input on energy audits in water treatment plants. If you have input, you can read more and respond here.
We held a webinar on leakage on Friday 3 February. You can join in the discussion on the platform.
We have also added a new discussion room on critical raw materials for both the drinking and waste water sectors.
The EurEau Innovation Sharing Platform is open to EurEau members and their member associations. For more information, contact This email address is being protected from spambots. You need JavaScript enabled to view it..
Other news
Water matters: Is Europe moving towards a Blue Deal?
The European Economic and Social Committee, one of the EU's advisory bodies, has launched an initiative to propose a Blue Deal, with a high-level hearing on 27 February 2023. The initiative should make water a central element of EU policy. A conference is planned for October 2023 to present the final proposal.
Oliver Loebel, EurEau Secretary General, has been appointed as advisor to the rapporteur on water management.
BWD: final summary
The BWD Final Summary report following the consultation period is available.
EDC: hazard classes coming
The adoption of hazard classes on endocrine disruptors is on track, despite some doubts in the EU Council. The Swedish Presidency of the Council submitted a decision to the Council in early February, so that Member States can confirm their decision not to oppose the December 2022 delegated act from the European Commission.
The Swedes specify that eight Member States had asked to extend the objection period by two months, and that one State supported an objection. But following a meeting between national experts on February 6, the presidency deemed that there was no majority to extend the deadline or raise an objection. In the European Parliament, no objections were raised before the deadline of 31 January 2023. Barring surprises, the act should be adopted in the next weeks.
Copernicus Assisted Lake Water Quality Emergency Monitoring Service (WQeMS)
Copernicus Assisted Lake Water Quality Emergency Monitoring Service (WQeMS) – part of the Research and Innovation Action program of the H2020 framework is live.
WQeMS aims to provide an operational Water Quality Emergency Monitoring Service to water utilities in relation to the quality of the 'water we drink'. It will focus its activities on the monitoring of lakes used for the delivery of drinking water. You can read more here: https://wqems.eu/.
The Green Deal Industrial Plan: putting Europe's net-zero industry in the lead
The Commission presented a Green Deal Industrial Plan to enhance the competitiveness of Europe's net-zero industry and support the fast transition to climate neutrality. The Plan aims to provide a more supportive environment for the scaling up of the EU's manufacturing capacity for the net-zero technologies and products required to meet Europe's ambitious climate targets.
Events
23-25 May 2023 - international conference on cyber security taking place in Romania; more details when we have them.
3-11 June 2023 – Green Week, as part of the European Year of Skills, the EU Green Week Partner Events will focus on skills for sustainable, resilient, and socially fair communities. You can find out more about organising a partner event on this website. Registrations will be open between 1 and 15 March.
5-7 September 2023 – NORDIWA call for abstracts for the conference to take place in Gothenburg, Sweden. More on NORDIWA: Home (trippus.net)…
4-6 October 2023 - Smart Cities, Poland; More information soon.